Submitted by

Anonymous (not verified)

on Fri, 2013-10-04 08:18
 KUDOS: to Marybeth and Chef Devyn Millls at Peekamoose Restaurant and Tap Room; Brooklyn Brewery reps Rick and Maya; and Helen, Kathleen and Nancy at Edible Hudson Valley magazine.
 What's in season? Turnips, beets, brussel sprouts, apples and pumpkins. Find out more about What's Fresh from the Catskills at Pure Catskills.com.  TODAY: Catskills Local Government Day at the Frank J. Cyr Center, 159 W. Main Street, Stamford 12167 OCTOBER 5, noon to 5 p.m.: 3rd Annual Escapemaker's Local Food & Travel Expo at Brooklyn Borough Hall, 209 Joralemon Street. Pure Catskills features samplings of Cowbella yogurt, Shaver Hill maple syrup & sugar candies, as well as cheese from Catskills Family Creameries members Dirty Girl Farm and Betty Acres Farm/La Belle Fromage. We're working to get people to visit the region through their bellies -- what better way than sharing regional foods. OCTOBER 5: Bethel Woods 3rd Annual Wine Festival features more than 20 regional wineries at Bethel Woods Center for the Arts. Enjoy a sampling of wine from the vine, as well as specialty foods, cheeses, music and craft vendors. OCTOBER 5: Farmers markets still open in Oneonta, Pakatakan, Saugerties, as well as Monticello on Monday, October 7. Visit Watershed Post for the Pure Catskills Featured Farmers Market of the Week. OCTOBER 9, 3:30 - 7:30 p.m.: Sheep & Goat Producer Group Farm Visit at Apple Pond Farm & Energy Education Center, Callicoon Center. This free farm tour features this diversified farm and dual purpose sheep, milk and meat goats. Sonja Hedlund and Dick Riesling will also share their knowledge of fiber, cheesemaking, renewable energy and agri-tourism. Transportation will be provided; call to reserve your seat in the van. This farmer education event is sponsored by the Council and CCE-Delaware. FMI: Kim Holden (607) 865-7090 
 OCTOBER 12-13, 10 a.m. to 10 p.m.: Taste of the Catskills at Maple Shade Farm, Back River Road, Delhi 13753. This family-friendly event showcases the food, beer, crafts, and wine of our region. With a variety of vendors including farmers, value-added food producers, and restaurants, attendees learn how food travels from farm to fork during a fun-filled autumn weekend on the grounds of Maple Shade Farm, a family-run farm in Delhi. Each day's events culminate with a dinner prepared entirely from local ingredients, paired with local beer and wine. Following dinner, a bonfire and barn dance will keep your feet tapping. On Saturday, stay for a tremendous fireworks display sponsored by the Delaware National Bank of Delhi. Join us at the Pure Catskills booth for a preview of the Pure Catskills Marketplace products. See, feel, TASTE for yourself the quality products available online. Catskills Family Creameries samplings in the educational barn second floor from Cowbella, Betty Acres Farm/La Belle Fromage, Dirty Girl Farm, Crystal Valley Farm, Byebrook gouda, Brovetto's Harpersfield cheese. Product available for purchase at the Maple Shade Farm Store and Good Cheap Food. Cost is $5, tickets will be available at the gate.
 
OCTOBER 14, 3-5 p.m.: Catskills CRAFT Meeting at Rondout Valley Organics at Rusty Plough Farm, Ellenville. Come for this free farm tour of Rondout Valley Organics, a collaborative CSA comprised of many farms in Ulster and Sullivan Counties. Oleh and Nadia Maczaj of Rusty Plough Farm will talk about their cooperative CSA model, give a farm tour, and lead a garlic planting workshop (so wear your work clothes!)! A potluck supper will follow. Sponsored the Council and Catskills CRAFT. Transportation available. Contact Eleanor Blakeslee-Drain, Farmhearts Fellow. OCTOBER 18, 10 a.m. to 2:30 p.m.: Commercial production of cut flowers workshop at Cooperative Extension's Resource Center, 34570 State Highway 10, Hamden. Floriculture specialist Dr. Chris Wien, Cornell University, will discuss cut flower production in the field and in high tunnels, including cool season crops for spring and fall; main season crops for summer; and Cornell's cut flower trials. Shannon Algiere of the StoneBarn Center will cover the nuts and bolts of production, from seed to harvest. Local flower farmer Meg Kennedy, of Arc Floral in Mount Vision, will discuss the farm's 20 years of direct marketing cut flowers. Anne Hart of The Cutting Garden in Youngsville, will discuss her experience in running a U-Pick cut flower farm operation. Cost is $10; pre-registration and payment are required by October 11. Call (607) 865-6531 for more information and directions or e-mail Janet Aldrich. Bring your own bag lunch. Beverages will be provided. OCTOBER 19, 10 a.m. - noon: Kettlehole Bog Hike at Charles Perrin Learning Center, Clearpool Campus, Carmel. Cost is $10 for this nature trail experience and moderate-level hike. A recent wetlands study of Clearpool Model Forest uncovered a kettlehole bog, a fairly rare peatland habitat. Join an informative walk and talk on this very unique ecosystem! For more information, email Stacey Damiano or call (845) 225-8226 x 606.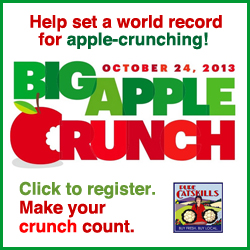 OCTOBER 24, noon - 1:30 p.m.: The Big Apple Crunch at SUNY-Delhi Farrell Student & Community Center (or Crunch wherever you are) This event is free, but you have to register online to be counted. Be part of the "crunch heard around the world." Grab an apple of your choice and join the Pure Catskills Crunch team. We're biting in big at noon to "crunch an apple on World Food Day." The Big Apple Crunch is an attempt to set the world record for the "Most Participants in an Apple-Crunching Event."
 The Pure Catskills Crunch team is looking for 1,000 (or more) hardy apple eaters so we can help GrowNYC reach 1-million apple eaters. The Big Apple Crunch is an attempt to set the world record for the "Most Participants in an Apple-Crunching Event." OCTOBER 25, 10 a.m. – 2:30 p.m.: Pumpkin Production workshop with CCE-Delaware, funded by the Watershed Agricultural Council. Learn about nutrient requirements of pumpkins; the best methods for fertilizer application; using transplants and/or plastic mulch for pumpkin establishment; diseases; pumpkin pollination; weed and insect control. Pre-registration and pre-payment are required by October 18. Cost is $10. Coffee, tea and juice will be provided; bring a bag lunch. For more information or to pre-register, call (607) 865-6531 or e-mail Janet Aldrich. Tune in on Friday, October 18 for the next What's Fresh from the Catskills on the WIOX Watershed Wake-up Call.