Submitted by

Anonymous (not verified)

on Fri, 2013-10-18 09:03
KUDOS: Taste of the Catskills crew and Catskills Family Creameries
What's in season? Turnips, beets, Brussels sprouts, apples and pumpkins. Find the pumpkin picking patch nearest you and What's Fresh from the Catskills at Pure Catskills.com. 
TODAY, 10 a.m. to 2:30 p.m.: Commercial production of cut flowers workshop at Cooperative Extension's Resource Center, 34570 State Highway 10, Hamden. Floriculture specialist Dr. Chris Wien, Cornell University, will discuss cut flower production in the field and in high tunnels, including cool season crops for spring and fall. Cost is $10. FMI: (607) 865-6531 Janet Aldrich. Bring your own bag lunch. Beverages will be provided. ALSO TODAY (and Saturday), 10-11:15 a.m.: Farming with Kids where children do farm chores like milking goats, feeding chickens, gathering eggs, grooming horses, etc. Adults: $5; children (age 4 and older): $4. Minimum of 5 people. No reservations needed. Apple Pond Farm, Callicoon Center (845) 482-4764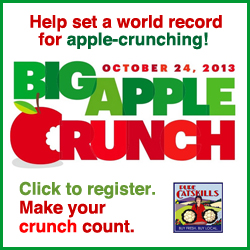 OCTOBER 24, noon - 1:30 p.m.: The Big Apple Crunch at SUNY-Delhi Farrell Student & Community Center Register online to be counted in the "crunch heard around the world." Grab an apple of your choice and join the Pure Catskills Crunch team. We're biting in at noon to "crunch an apple on World Food Day." The Big Apple Crunch is an attempt to set the world record for the "Most Participants in an Apple-Crunching Event."
OCTOBER 25, 10 a.m. – 2:30 p.m.: Pumpkin Production workshop with CCE-Delaware, funded by the Watershed Agricultural Council. Learn about nutrient requirements of pumpkins; the best methods for fertilizer application; using transplants and/or plastic mulch for pumpkin establishment; diseases; pumpkin pollination; weed and insect control. Pre-registration by October 18. Cost is $10. Coffee, tea and juice will be provided; bring a bag lunch. FMI: (607) 865-6531 Janet Aldrich.
FALL FARMERS' MARKETS STILL GONG STRONG:
Oneonta Farmers' Market: Saturday 9 a.m. - 1 p.m.Barryville Farmers' Market: Saturday, 10 a.m. - 1 p.m.Saugerties Farmers' Market: Saturday 10 a.m. - 2 p.m. (last day of the season)Lexington Farmers' Market: Sunday from 10 a.m. - noon (last one of the season)Rosendale Farmers' Market: Sunday from 11 a.m. - 1 p.m. (runs through October 27)Sullivan County Farmers' Markets Association:Callicoon Sunday 11 a.m. - 2 p.m.Liberty on Friday 3-6 p.m.Jeffersonville Thursday 3–6 p.m.Monticello Farmers' Market : Monday 11 a.m. - 2 p.m. (through October 28)Delhi Farmers' Market: Wednesday, 10 a.m. - 2 p.m.Morris Farmers' Market: Thursday 3-6 p.m. (through October 31) Register Today for Free Marketing Webinar Series:  "Marketing for Profit: Tools for Success." Webinars have been designed with the assistance of regional and national marketing experts to provide critical marketing insights for farmers and farm markets throughout the northeast. The webinars are free and approximately 1.5 hours long. 
OCTOBER 18-27: 3rd Annual Cider Week NY Tastings, classes, pairings and flights at more than 75 Restaurants, Pubs, Shops and Markets throughout the Hudson Valley! Cider makers across the country are spearheading resurgence of orchard-based libations, crafting distinctive hard ciders that pair well with food, can be enjoyed on their own or mixed into delectable cocktails. Visit Cider Week locations featuring Edible Friends like Peekskill Brewery, The Heron in Narrowsburg, Aroma Thyme Bistro in Ellenville, and Rhinebeck Farmers' Market.
OCTOBER 21: Art Start Academy at 1:30 p.m. at the Roxbury Arts Center, led by Anne Gohorel, Pure Catskills member of Bread Fellows. This monthly program brings families together as they work collaboratively on engaging art activities for newborns to four-year-olds and their adult companions.
OCTOBER 22: Deadline for photo submissions for the 2013 Catskills Farm Photo Contest, created by AgriForaging, Inc. and the Catskills Food Guide (Watershed Post) and sponsored by Spillian. Selected photos will be featured in the 2014 Catskills Food Guide and in a special menu at Spillian!
OCTOBER 24: Help Preserve the Local Harvest for Your Community 5:30 - 7:30 p.m. Volunteer with Farm Catskills, the Hobart Rotary Club and Hobart Food Pantry to preserve local harvest for the coming winter months.  FMI: Sonia Janiszewski (914) 720-1020 OCTOBER 24: Monthly Food Canning & Pickling Workshop Series: Freezing and Dehydrating (making jerky) 6 - 9 p.m. CCEUC's Education Center, Kingston. This fun and informative workshop series teaches all the basics as well as the full range of products that can be safely preserved using boiling water bath and pressure canning methods.$15 per person/per workshop. FMI: Janie Greenwald (845) 340-3990
OCTOBER 25-26 Ghoulish fun for everyone!  Haunted House 3 - 8 p.m. at 76 Main Street, Stamford. Tickets: $5 Adults, $2 Youth OCTOBER 26: Jack-O-Lantern Jamboree from 10 a.m. - 8 p.m. at Maple Shade Farm, Delhi. (607) 746-8866 Games, food, arts and crafts all with the pumpkin in mind. Toast a marshmallow over the bonfire and enjoy the stars. Costume contest at 6pm. Jack-O-Lantern lighting at 7pm followed by sky lantern launch and live music.
NOVEMBER 4: Lucky Dog Local Food Hub workshop series, "Producing for the Hub" from 10 a.m. - 12:30 p.m. at Lucky Dog Farm Store, Main Street, Hamden. Topics will include food safety, institutional connections, and packaging and billing for the Hub. FMI: Rebecca Morgan, CADE (607) 433-2545 Tune in on Friday, November 1 for What's Fresh from the Catskills on the WIOX Watershed Wake-up Call.